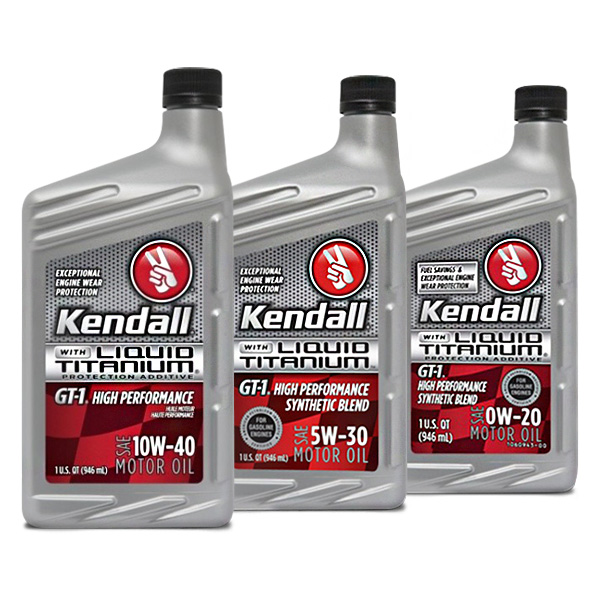 Has the date on your oil change sticker passed? Is your vehicle flashing the "maintenance required" signal? Are you ready to get your vehicle serviced? At Leone Tire & Auto, we offer great oil change packages to fit your vehicle's needs.
Kendall High Performance Synthetic Blend Motor Oil is high quality, part-synthetic oil designed for use in gasoline or flex-fuel passenger cars, sports utility vehicles, and in light trucks under all operating conditions.
Kendall Synthetic Blend with Liquid Titanium is formulated with a blend of synthetic and conventional base stocks and a performance additive package with exclusive Liquid Titanium additive technology for extra protection against engine wear and improved fuel savings. The part-synthetic oil provides enhanced oxidation resistance and thermal stability at high temperature. It allows better flowing capability at low temperatures compared with conventional engine oils. The Liquid Titanium additive enhancement provides increased engine protection by forming a strongly bonded titanium shield on the surface of critical engine parts, which reduces friction and wear and helps extend engine life. Lower friction from Liquid Titanium also helps improve fuel economy.
Kendall Synthetic Blend Oil exceeds new car warranty requirements. It improves fuel economy, protection of emissions system catalysts and turbochargers, and protection of engines operating on ethanol-containing fuels up to E85.
Receive $10.00 off your next oil change. $19.95 Oil Change Special.
GT-1 High Performance Synthetic Blend with Liquid Titanium meets or exceeds the requirements of most manufacturer recommendations.
Kendall Synthetic Blend Oil comes with a 27 point safety inspection, free tire rotation, and a battery check. During the oil change, all fluids will be topped off.
Online pricing may not be the same as in-store pricing. To guarantee online pricing, please bring a copy of this page to your Leone Tire & Auto location of choice, or book a service on our website. Contact us to schedule you next oil change.
(813) 818- 7669 Oldsmar Location OR (727)-934-5470 Holiday Location
Call today to request an appointment for your next oil change (813) 818-7669
Receive $10.00 off your next oil change. $19.95 Oil Change Special.